Lawbstahs Are Awesome!
I was itching to get out of the house and go on an adventure this weekend. I've been dying for lobster during the four years we've lived here in New England. Never had an opportunity to buy any big ones let alone afford them...until I investigated.
Thanks to the handy dandy Google, I came across a Co-op in Scarborough, Maine that sold lobster for 6.99 a pound. That's pretty good, right?
So we drove up 95 and found the place. We bought two 3 pounders. Let me tell you I just couldn't wait to crack those babies open, yum!
On our way back, we stopped at Old Orchard Beach. It reminded me a bit of Point Pleasant, NJ minus the boardwalk. The rides were shut down for the season, and so were the goddamn bathrooms! When you have three kids, and you drank a diet Coke during a long ass ride, it spells bladderfest. We scoured the pier for a place to go. Luckily, we found a bathroom in the arcade that I think was meant for the employees, but nobody stopped us, so tough titties!
After hanging on the beach for a while, we decided to make another stop in Kennebunkport. We drove along route 35 and managed to find the Bush compound. We checked out the 3 black SUV's that we imagined belonged to the secret service and a big speed boat anchored in the water....maybe to chase any bad guys? And no, those kayakers are not secret service agents...or maybe they are?? I swiped the picture from a Kennebunkport site, so who knows.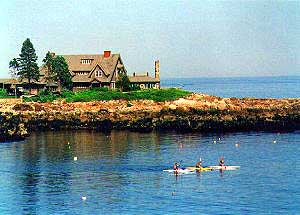 So that was our weekend adventure with an ending to a Sunday afternoon at Hampton Beach State park.
Bye bye Summer:( Hello Fall!! I can't wait to take another trip somewhere and take awesome pictures.